Most fluorescent light bulbs process energy in the same way to produce light; however this doesn't mean that all fluorescent lights are the same. The differences are generally defined by the color and brightness the bulbs emit, the projected length of time the bulb will function, and the diameter and length of the bulb.
Fluorescent Light Bulb Types
Fluorescent light bulbs have traditionally been a 24-inch, 36-inch or 48-inch 1 ½-inch diameter tube with two pins on each end. Today, there is a wide variety of different types of fluorescent light bulbs — in a variety of lengths and diameters.
The diameter of the tube is described in eighths of an inch. There are twelve eighths in 1 ½ inches, so a T-12 fluorescent lamp is 1 ½ inches in diameter.
Some of the most common fluorescent light bulbs on the market include:
Fluorescent Tube and Circline Lamps
Tubes and circline bulbs are often used for industrial applications. The light emanating from these bulbs can be distinctive, making them less popular for residential use.
T-12: A T-12 has a diameter of 1½ inches. This is the most common diameter of tube-shaped light bulbs. It is usually bi-pin and it does not require a starter. It is available in a variety of lengths including a 15-inch (14-watt), an 18-inch (15-watt), a 24-inch (20-watt bulb), as well as a 36-inch and a 48-inch bulb.
T-8: The T-8 tube is in the process of replacing the T-12. It has a 1-inch diameter, it is more energy-efficient and it gives off more light than the T-12. It is available in a variety of lengths including a 12-inch (13-watt), a 15-inch (14-watt), and an 18-inch (15-watt).
T-5: One of the benefits of the T-5 tubes is that it is more efficient than the T-8 and is currently used in some commercial locations and throughout Europe.
U-tube: A U-tube is a tube bent in half to form a "U" shape. A 48-inch bulb is bent into a U-tube bulb that is around 22 to 23 inches long and is brighter than a 23 inches tube bulb.
Circle tube: Circle tubes are available in many sizes, but are generally between 6 inches to 16 inches in diameter and will have a 4-pin connector.
Compact Fluorescent and Screw-Socket Bulbs
These bulbs are the ones most commonly used for residential applications. The light from these bulbs is often engineered to mimic the light of an incandescent bulb.
Miniature bi-pin sockets: The bulbs to fit these sockets are 5/8-inch in diameter. They are usually 6, 9, 12 or 21 inches long with wattages of 4, 6, 8 or 13 watts respectively.
Compact fluorescent light (CFL): A CFL bulb is essentially a fluorescent tube that has been reduced to the size of a pencil and then folded or twisted into the shape of a light bulb. It has a screw socket so it can easily screw into a lamp socket. It is more energy-efficient than an incandescent bulb, but not any more energy-efficient than a tubular fluorescent lamp. Compact fluorescent bulbs have a more pleasing color than a tube-shaped fluorescent bulb. Some have electronic ballasts.
Screw-in bulbs: Often considered the most popular energy-saving light bulbs, they can fit almost any table lamp or light fixture. They cannot be dimmed.
NEOLITE? low-mercury: NEOLITE? bulbs are some of the smallest CFLs available, so they fit in most lamp sockets. The bulb is ENERGY STAR qualified and contains only one milligram of mercury, less than half the mercury of other brands. It also contains led-free solder and glass. It is a bright bulb (70 lumens per watt), has excellent color and a 10,000-hour rated life.
Special-Use Fluorescent Bulbs
To meet consumer demand for more versatility in fluorescent bulbs, manufacturers have developed a wide array of specialty bulbs to suit various unique occasions.
Floodlights: Fluorescent floodlights use only about 25% of the energy used by regular incandescent floodlights. They also produce less heat. They can be used in recessed can fixtures and track lighting. They cannot be dimmed.
Dimmable lights: These bulbs offer energy savings and they can be dimmed to 20% of their full light output.
Decorative torpedo bulbs: Decorative light bulbs are an energy-saving alternative to incandescent decorative bulbs for chandeliers and light fixtures.
Colored light bulbs: Restaurants, bars, and nightclubs are the most common places to find colored fluorescent light bulbs. They are available in a wide range of colors including red, green, blue, yellow and pink. They have a long life.
GE 2D bulbs: This pretzel-shaped General Electric bulb has been around since the early 1990s. They are commonly used in torchiere lamp fixtures and table lamps.
3-way bulbs: A compact fluorescent 3-way bulb saves energy and lasts much longer than incandescent 3-way bulbs. They can be used in any lamp with a three-way switch. They cannot be used in touch lamps.
GU24 Twist and Lock bulbs: Part of a new generation of compact fluorescent bulbs, the GU24 allows you to change the wattage of the bulb without changing the fixture. The bulb can be used in the Line Voltage Socket (LVS) that is commonly used on today's modern ENERGY STAR light fixtures.
Fluorescent Light Bulb Colors
The color of a fluorescent light bulb comes from a powdery coating of mixed phosphors inside the tube. The mixture of phosphors determines the color given off by the light bulb. Fluorescent light bulbs come in many colors of white: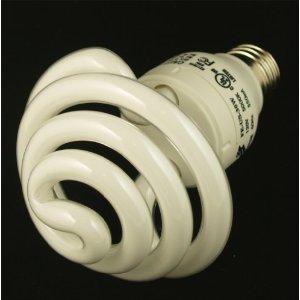 Daylight: Daylight bulbs casts a blue tone.
Cool white: This is the most commonly used color in commercial settings. It has a slightly bluish color. It is not recommended for residential use because it has a distortion that makes colors look washed out.
Warm white: Warm white bulbs are recommended for residential use. They have a slightly pinkish color.
Full spectrum: A full spectrum bulb shows the truest color and is brighter than the cool white or warm white bulbs.
Bulb Brightness
A brand new fluorescent light bulb takes a few hours to achieve maximum brightness. The bulb's brightness will start to decline from that point on. The common 48-inch, 4-watt cool white fluorescent tube starts with a brightness of 3,250 lumens, the measurement for the brightness of light. Within six hours, the brightness of the bulb will have declined to an average of 2,960 lumens.
Making Your Decision
The type of fluorescent light bulb you decide to use should be dictated primarily by the area in which you will be using it. Not all fluorescent light bulbs are made equally. They all have their own specialized uses, and these special characteristics should be carefully weighed before making your purchase.
© 2022 LoveToKnow Media. All rights reserved.